Big Eyes (2014)
If there's one thing we can all agree into is the fact that Tim Burton is a both visionary and talented director who is great at creating different worlds and realities based on unique ideas. Even with several lows in his career, it's impossible to remain indifferent to movies like Nightmare before Christmas and Frankenwinnie. So, for a director who spent most of his career developing dark stories with unusual characters that behave and act in ways only a creative mind is capable of imagining, Big Eyes can be quite surprising since it's a bit different from Burton's usual style and charms. With Amy Adams and Christoph Waltz leading the cast, Big Eyes manages to be entertaining and it's still able to raise some awareness regarding women's role in our society during the 1950's.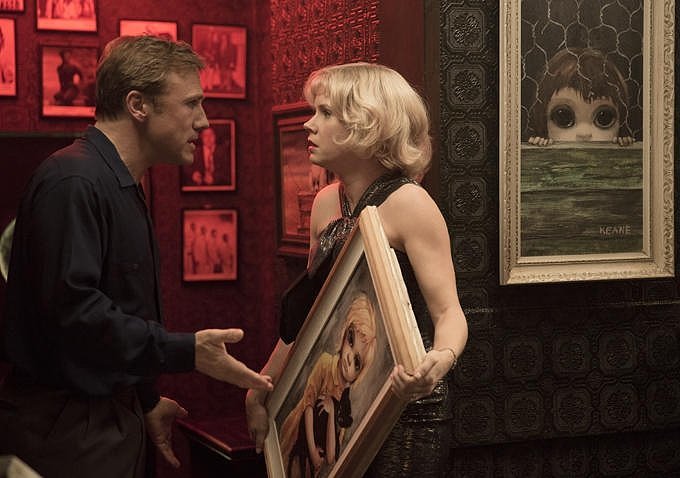 Margaret is a talented woman trying to make it on her own after leaving her husband, which was not a usual thing to do during that time, with her daughter Jane and her paintings. With a job and with an impressive determination of showing her paintings to the ones who enjoyed them, Margaret decides to attend a city fair and that's where she meets a fellow painter named Walter Keane who quickly tries to seduce her by praising her paintings in a way Margaret had never witnessed before. With an amazing ability of self-promoting, Keane shows his talent in front of his favorite audience, women. Without being able to make an impact with her drawings of children with big eyes, Margaret sees something in Walter that attracts her, which leads them to a lovely marriage. But when they both start selling their paintings in a local pub and when Walter sees the paintings of his wife making a bigger impact, he takes advantage of that and tells everyone he is the author of the "Blue Eyes". After selling several paintings in a successful night, she agrees with their life of lies and they both start a very successive business. However, when she finds herself stuck without recognition for her work, she will try making it on her own again to reclaim her name and her paintings.
With Big Eyes, Tim Burton proves that he is capable of leaving his repertoire with a captivating look on the life of a woman who saw society's discrimination as her biggest obstacle, since it prevented her from being respected by the things she did. As a talented and strong woman who falls into the hands of a dangerous man, Amy Adams gives probably one the most emotional performances of her career thanks to an amazing display of strength and courage. Margaret was an ingenious woman who fell in a trap carefully planned by a charming ladies-man and during the movie we see her evolution while she starts realizing the mistake it was agreeing to join a life of lies. When she finds herself lost and tired of hiding everything she did, it's amazing to see the determination she gains and the way she starts plotting her small revenge, first by creating paintings with her own name and then by reclaiming her name on the rest of the paintings. In this struggle for merit and recognition, Amy Adams is capable of representing the right emotions in the right time, as a woman who was fooled several times and that managed to get the strength she needed to reclaim the life she lost in the middle of all the lies. In the other side of the fight, we have the ladies-man and charming artist Walter Keane, played by Christoph Waltz, who shows a manipulative personality and who has everything carefully planned. He is an amazing salesman, able to sell and promote everything to all sorts of audience (Except for one critic) and a romantic man, able to seduce and persuade women to do everything he wants. The dynamic relationship between these two very different mentalities makes the characters' personalities stand out and again, it's amazing to see these two great performances that made everything work pleasantly well.
One of the things I enjoyed the most about Big Eyes was the way the story was told, in a slow pace and describing almost every interesting detail the viewer needed to fully understand what was happening. The way Margaret deals with all the lies becomes a bit disturbing and I think that this makes sense mostly because her paintings and the emotions that she was trying to express were a very intimate part of her. No one can deny that Amy Adams is the perfect choice for this role and as the same time there's no one better to play a good-old ladies-man who is part of one of the funniest moments I've seen recently. Even when you know how the whole thing is going to end, it's impossible to not feel moved or captivated with the energy and emotion that flows around the scenes. However, when the movie is close to its end it looks like they rushed the whole thing and there is almost no time to think about what's happening. As a fan of some of Burton's previous works, it surprised me a lot to see this new entry in filmography mostly dominated by dark titles with funny/peculiar characters. Big Eyes has the energy of a "feel-good", the style of Tim Burton and the emotion of two amazing performances by Amy Adams and Christoph Waltz, all combined in a funny, dramatic and moving experience.
---
---