Wild Tales (2014)
Directed by: Damián Szifrón
With: Darío Grandinetti, María Marull, Mónica Villa
122 Minutes
With an unusual concept, Damián Szifrón is the man behind six tales about love, vengeance and about everyday violence in which the characters will be in different scenarios that will give them reasons to lose control and that will surprise its viewers with its unpredictability and good mood. Nominated for the Academy Award for Best Foreign Language Film, Wild Tales or Relatos salvajes has been acclaimed by several critics worldwide and it's also seen as one of the best movies of 2014. Strong, tremendously funny and addictive, this is like a tiny box of surprises in which violence is the right weapon to deal with the troubles.
Revenge is a dish best served cold and in this peculiar movie, the viewer is invited to see how its characters handle with specific situations that will drive them mad. Six unrelated stories that are only gathered since they feature everyday violent situations is Szifrón's main dish that has a huge potential to please its viewers. Wild Tales is quite different from the usual characteristics of an Academy Award nominee which makes things even more interesting. Some of the stories are based on love issues while others are based on our own basic instincts and in the pleasure of revenge and violence. It's basically about normal people who have to think about the best way to endure difficult situations while the audience tries to guess the ending of each story… A surprisingly effective formula that is brilliant in the way it's presented, Wild Tales left me speechless and that is saying enough for a movie with a both pleasant and intriguing trailer.
With six different stories, it's really hard to write about every single one of them without ruining one of the movie's key elements: the surprise effect. Wild Tales stars a big cast to fill all the stories but its full potential comes mostly from the amazing combination of tension, humor and violence in each one of them. The performances are good and there's something odd about the way the characters attract the viewers. Normal people will see their lives threatened by a series of unpredictable events and their limits will be tested when things reach a point in which they stop caring about ethics. Some of the stories can be seen as social commentaries about what's wrong in the system while others are simply amazing to see… In the end, whether you enjoy it or not, this is definitely one of those cases that have enough strength to leave no one indifferent to it.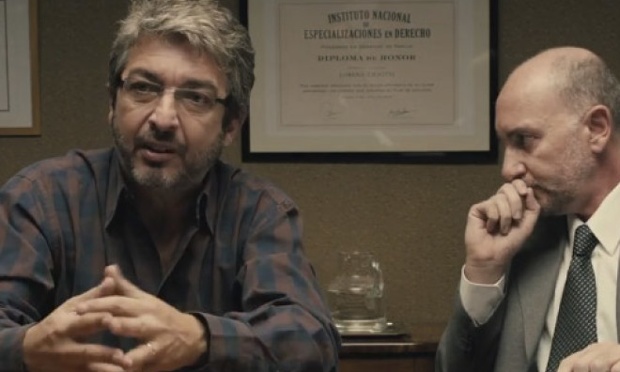 Six unbelievable situations gathered in six different stories that can be seen as separate short films are the main ingredients of this successful recipe that combines a series of genres in the right proportions. Damián Szifrón managed to create a successful sequence of stories that only lost some of its impact in one of the six situations, in my opinion, and that managed to surprise me in a way I wasn't expecting. Wild Tales is a great work and can be seen as a masterpiece in the sense that it's not usual to see this amazing combination of tension and humor in nowadays' movies. The transitions between stories aren't abrupt which allows the viewer to take a deep breath and to absorb new information and it's impossible to not feel attracted by the amount of dark humor in each story.
Wild Tales is captivating, powerful, energetic, surprising and highly effective by grabbing the viewer's attention into an experiment that went pretty well. A masterpiece that features the unpredictability, the originality and the wow effect that lacks in most of nowadays' movies… With six amazing stories that are filled with dark humor and crazy and violent moments, Wild Tales is an engaging movie that only those who see it are able to confirm its full potential. By placing normal people in challenging and unusual situations, Szifrón represented our darker pleasures in a 2-hour movie that is pleasing in the way it makes everyone laugh about uncomfortable and violent situations. Always with a good pace and without losing my support during its entire length, Wild Tales is a must and a surprising experience that left me completely satisfied, because in the end we can all lose control.
---
---